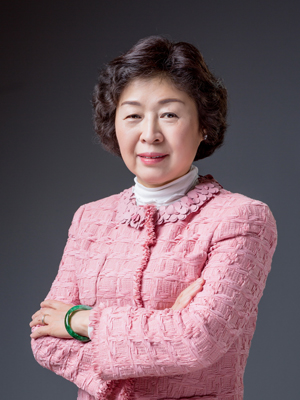 Dear Shareholders,
During FY2019, the packaging paper industry in China has seen unprecedented challenges. With the trade tension between China and the U.S. remained unresolved, downstream demand has been under pressure amidst the complicated and evolving economic environment both at home and abroad. Coupled with the progressively tightening control on the import quota of recovered paper by the Chinese government, both the prices of domestic recovered paper and Renminbi experienced significant volatility.
Despite these challenges, Nine Dragons Paper's sales volume and sales both reached a record high during the Year by leveraging its leading position in the industry, a diverse range of products, prudent and timely price adjustments, as well as its full range of reliable services. With the sales volume in China and Vietnam increased to approximately 13.3 million tonnes, and the external sales volume of approximately 0.8 million tonnes contributed by the four paper and pulp mills newly acquired in the U.S., the Group's total sales volume for the Year reached approximately 14.1 million tonnes, representing a year-on-year increase of approximately 1.1 million tonnes. Total sales increased by 3.5% year-on-year to approximately RMB54,647.4 million. In addition, despite various expansion projects implemented during the Year, net gearing ratio dropped to 59.7%, the lowest level in the last decade, down by 5.6 percentage points year-on-year.
Product prices of the whole industry had been under pressure as affected by the economic weakness. As such, the Group's gross profit margin for the Year decreased to 15.4%, while profit attributable to equity holders was approximately RMB3,859.7 million. Profit attributable to equity holders was approximately RMB4,024.4 million if the exchange losses on operating and financing activities (net of tax) were excluded, representing a year-on-year decrease of 48.9%. Basic earnings per share was approximately RMB82 cents. The Board has proposed the distribution of a final dividend of RMB18.0 cents per share. Together with the interim dividend of RMB10.0 cents per share, dividend for the Year amounted to RMB28 cents per share with a dividend payout ratio of 34.0%.
As an enterprise operating in the manufacturing industry, Nine Dragons Paper's ability to expand production capacity and hence increase the benefits from economies of scale represents one of its major strengths. As at 30 June 2019, the Group's total design production capacity of pulp and paper was 15.89 million tpa. The aggregate new packaging paper production capacity of 0.95 million tpa at the Shenyang and Quanzhou bases is scheduled to commence production in the fourth quarter of 2019; while the aggregate new packaging paper production capacity of 1.1 million tpa at the Hebei and Dongguan bases is scheduled to commence production in the first quarter of 2020. In addition, we are also planning to add 0.55 million tpa of packaging paper production capacity in Malaysia in 2021. By then, the Group's total design production capacity for paper production will exceed 18 million tpa.
The extensive and diversified global procurement network of recovered paper has been Nine Dragon Paper's competitive advantage throughout these years. In order to further enhance the stability and flexibility of raw material supply upstream while ensuring the quality and increasing the competitiveness in terms of its production costs, during the Year the Group has increased the purchase of domestic recovered paper, strengthened its quality control and actively sought opportunities to expand its reserve of upstream resources. In August 2019, our pulp mill in Old Town, Maine, U.S. resumed production. The mill has a design production capacity of 0.16 million tpa of unbleached kraft pulp. In September, we successfully acquired a company in Malaysia and attained 0.48 million tpa of recycled pulp production capacity. Currently, the Group has a total design production capacity of 0.85 million tpa for pulp. In the next two years, we shall upgrade the equipment at the four existing pulp mills in the U.S. It is expected that our production capacity of recycled pulp and kraft pulp will increase by a total of 0.56 million tpa and 0.20 million tpa respectively, and the Group's total design production capacity for pulp will reach 1.61 million tpa by 2021.
In complement with its upstream integration, the Group was also expanding its downstream business to gain greater pricing power on its products. In September 2019, the Group completed the acquisition of 7 packaging factories downstream, 5 of which are in operation and engaged in the production of corrugated cardboard and carton box. It is expected that these factories will consume over 1.0 million tonnes of the Group's containerboard products every year in the future. We shall also be able to provide one-stop services to our end customers, which will strengthen the synergies and improve our product quality and pricing power, as well as enhance cost and operational efficiencies. Leveraging its strong platforms, the Group is well positioned to further expand and strengthen its downstream business.
As the saying goes, "Every cloud has a silver lining"; a time of danger is also a time of opportunity. Firstly, the central government's supply side reform and economic stimulus policies on tax and levy reduction will be favourable to the growth of the Chinese economy and boost the inelastic demand for consumer goods, which will in turn bring positive influence on the paper manufacturing industry. Moreover, the trading between China and the ASEAN, as well as the European Union countries will be beneficial to China's export to a certain extent. Furthermore, we expect that market consolidation of the paper manufacturing industry will be accelerated by the three major drivers namely environmental protection, raw materials and market conditions, thereby creating more room for development for the large enterprises.
As for the changes in raw material supply, we have already prepared for the worst. In the coming year, the Group will focus on turning challenges into opportunities to consistently provide our customers with "a piece of exemplary quality paper" by leveraging the development of upstream and downstream businesses, while at the same time maintaining our cost advantages:
1. Integrate domestic raw materials and market segments to make up for the raw material supply gap — In view of the government's increased efforts in the implementation of waste sorting to promote the recycling of domestic recovered paper, we have also strengthened our efforts in expanding the domestic purchase channels for recovered paper, and continued to explore opportunities to expand the production capacity of recycled pulp overseas with an aim to fully utilize quality imported recovered paper procured at low price as our raw materials. We believe that this two-pronged approach would help to ensure both the supply and quality of our raw materials;
2. Enrich the range of paper products to cater for the packaging needs of different segments — While striving to satisfy the needs of mid-to-highend markets, we will also devote greater resources to the research and development, production and sales of mid-to-low-end products with good value for money so as to further increase our overall market share; and
3. Continue to maintain a healthy gearing ratio — We shall maximize our returns by adjusting the debt portfolio to maintain a balance between borrowing costs and exchange risks.
The staff of Nine Dragons Group will forge ahead with concerted efforts and get well-prepared for changes and challenges. On behalf of all members of the Board, I would like to take this opportunity to express my sincere gratitude to our stakeholders, including employees, governments at all levels, customers, investors, banks and business partners for their trust and support in Nine Dragons Paper all along.

Cheung Yan
Chairlady
Hong Kong, 24 September 2019